Bus Connects Proposals for Dublin Bus Routes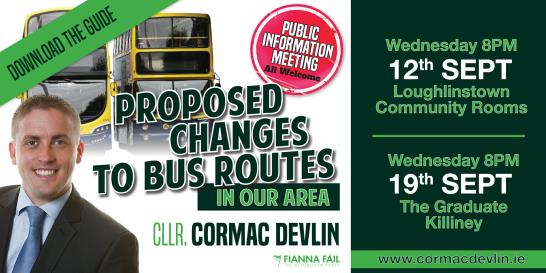 The National Transport Authority is proposing to radically redesign the Dublin Bus Network. 

The proposals aim to improve the efficiency of the network by creating several high frequency spinal and orbital routes. Part of the proposal includes re-numbering routes on the network. 

While some of these proposals are welcome, I strongly oppose others as they will have a very significant impact on Dún Laoghaire.

Parts of Ballybrack, Glenageary, Sallynoggin, Loughlinstown, Monkstown and Mounttown will be left without a direct link to the City Centre.

I have published a helpful guide to the changes in Dun Laoghaire – you can download the guide
here
I am also hosting two public information meetings which I invite you to attend.

If you have any queries please do not hesitate to get in contact.

Is mise le meas,

Cormac

Have Your Say - Make A Submission on Bus Connects

Amend the text below to make your own submission