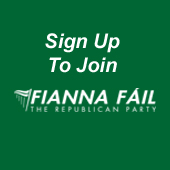 Cllr. Cormac Devlin, "Saint Michaels", Glenageary Avenue, Dún Laoghaire, Co. Dublin

Telephone: +353 (1) 275 0786 Email cormacdevlin@ireland.com

.


"PROPER PEDESTRIAN CROSSING

NEEDED ON RE-DESIGNED

MOUNTTOWN ROUNDABOUT"

CLLR. DEVLIN

October 2005

Local Councillor Cormac Devlin asked Council Management to install proper pedestrian crossings on the main entrances onto the Mounttown Roundabout citing the volume of children and commuters who use this roundabout every morning.

Councillor Devlin specifically mentioned those with special needs who attend St. John of Gods, Carmona Services in Glenageary and come by bus (46A) and how important it is that a safe means of crossing is installed for them when work is being carried out on this roundabout.

The following Motion was proposed by Councillor Cormac Devlin

That this Council ensure that pedestrian lights are installed on all roads leading onto the Mounttown Roundabout? These lights seem to have been excluded from the drawings of the Dun Laoghaire – Foxrock Bus Priority Lane scheduled for construction in late 2005.

The following report of the Manager was noted:

Mounttown Roundabout forms part of a Quality Bus Corridor (QBC) and Cycletrack Scheme from Foxrock Church (Kill Lane) to the Dun Laoghaire 'DART' Station.  It is expected that work on site on this scheme will start in March.

Signalised Pedestrian Crossings will be provided on Glenageary Road Upper located at approximately 20 metres from the Mounttown Roundabout and on Oliver Plunkett Road at approximately 20 metres from the Roundabout. 

Please note also that a further signalised pedestrian crossing will be located on Mounttown Road Lower adjacent to McCormack's Pub.  Additional signalised pedestrian crossings on the remaining three arms of the roundabout are not warranted since all roads leading to this roundabout are fully accessible to pedestrians.