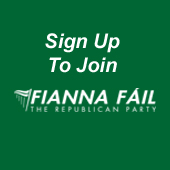 Cllr. Cormac Devlin, "Saint Michaels", Glenageary Avenue, Dún Laoghaire, Co. Dublin

Telephone: +353 (1) 275 0786 Email cormacdevlin@ireland.com

.


DEVLIN SELECTED BY FIANNA FÁIL TO RUN IN DÚN LAOGHAIRE

Cormac Devlin was selected by the members of Dún Laoghaire Fianna Fáil to contest the forthcoming local elections in the Dún Laoghaire Local Electoral Area.
Read More...
DEVLIN LAUNCHES WEBSITE WWW.CORMACDEVLIN.COM

Councillor Bernie Lowe (Ballybrack) officially launched Cormac Devlin, a candidate for the forthcoming local elections website, www.cormacdevlin.com. Speaking at the event held at the home of Glenageary / Rochestown Cumann member Adam Redmond, Cormac said the website would play an important role during the campaign keeping residents up to date with the latest events, policies and news.