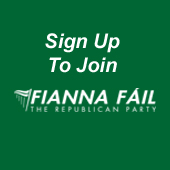 Cllr. Cormac Devlin, "Saint Michaels", Glenageary Avenue, Dún Laoghaire, Co. Dublin

Telephone: +353 (1) 275 0786 Email cormacdevlin@ireland.com

.


PEDESTRIAN CROSSING FOR

SALLYNOGGIN ROAD

September 2005

Local Fianna Fáil County Councillor Cormac Devlin called for a pedestrian crossing on Sallynoggin Road. Inspite of the success from the "Speed Reminder" Signage on the road Councillor Devlin felt that local residents still have no safe place to cross this busy road.

The following Motion proposed by Councillor Cormac Devlin:

That the Manager re-visit his decision not to grant permission to my request (October 2004) for a pedestrian crossing on Sallynoggin Road Lower in light of the recent accident that took place there?  For too long this section of the road (between Rochestown Avenue and Woodpark) has been left without any pedestrian crossing. 

The nearest crossing is outside the shops.  Any resident of the Pearse area who wants to cross the road to these shops must either cross Pearse Street or the stretch of Sallynoggin Road Lower stated above where there are no pedestrian crossings at all.

The following report of the Manager was noted:

There are no proposals at present to provide a new pedestrian crossing on Sallynoggin Road Upper. 

Improved pedestrian facilities on Sallynoggin Road Upper at the junction with Rochestown Avenue are currently being considered by the Traffic Section.

Item 50 of this Area Committee relates to the installation of Speed Alert Signage which has been installed recently on Sallynoggin Road Upper and is expected to be operational shortly.